After vacating its regular February spot earlier this year due to COVID-19 restrictions, the BRIT Awards returned in style last night. It's an extra special one too, being that it was one of the first major in-person events to take place since the pandemic took hold. Boasting surprise appearances, epic performances and history-making winners, the iconic award show was on its best form. Now, we're breaking down some of our favourite moments of the night.
Dua Lipa's Future Nostalgia medley
Dua OWNED the BRITs stage with an energy-filled medley performance of five songs from her Grammy award-winning album Future Nostalgia. The location changes, outfit reveals and choreography were all on point, as we've come to expect from Dua. We felt like we'd been transported back to Studio 2054 for five minutes.
Olly Alexander and Elton John's It's a Sin performance
One of the biggest surprises of the night was the beautiful, captivating cover of the Pet Shop Boys' "It's a Sin" from Olly Alexander and Elton John. Not only did the performance remain unannounced until broadcast, but it stole the whole show. Olly proves his incredible performance ability and Elton got to remind us exactly why he's legendary. This is just the kind of queer statement the BRITs needed to make in 2021.
Little Mix's Best British Group win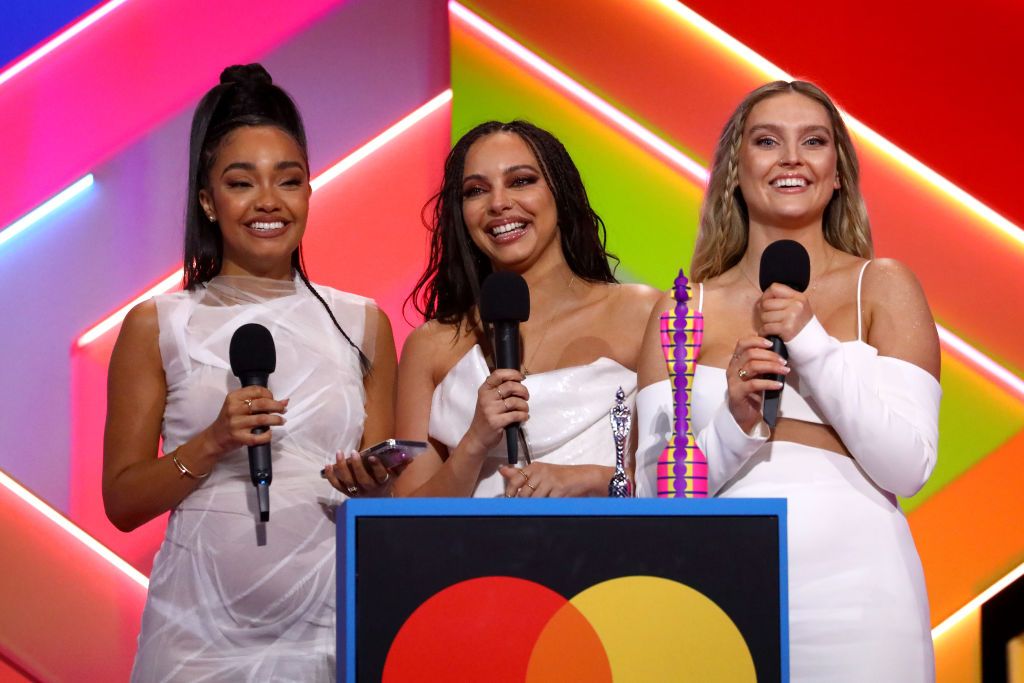 Making history as the first girl group to bag the award in the BRIT Awards 41-year history, Little Mix were glowing as they accepted their Best British Group win. The girls dedicated their award to all the iconic girl bands that came before them, including the Spice Girls, Girls Aloud and Sugababes, who they claimed 'deserved to win the award way before them'.
Rising Star winner Griff performs Black Hole
Beating out the likes of Rina Sawayama and Pa Saileu, Rising Star winner Griff took to the BRIT Awards stage to prove exactly why she deservedly won the title. Performing her heartbreak-pop track "Black Hole", she was captivating from start to finish. A true star in the making moment.
Harry Styles' surprise appearance
Whilst rumours were swishing around social media that Harry could potentially pop up at the BRITs (we knew he was in Brighton filming his upcoming movie My Policeman), we weren't fully convinced. But when his single "Watermelon Sugar" won Best British Single, Harry surprisingly emerged from the audience to collect his award on stage. While his appearance was short and sweet, it was great to see him at the award show nonetheless.
The Fashion
The BRITs red carpet is rarely one for standout, top-tier looks (no shade), but last nights ceremony saw some great fashion moments that will no doubt enter the BRITs history books. From Dua Lipa in Vivienne Westwood to Harry Styles' full Gucci suit, the stars went all out for the UK's biggest night in music. Other standouts include Rina Sawayama's ruffled lilac Balmain gown and Griff's pastel Susan Fang dress surrounded by floating crystals.
Taylor Swift's Global Icon Award win
You can't deny Taylor Swift's impact on music over the last 15 years, making it very fitting for her to win the BRIT Awards Global Icon Award. Not only did Taylor make a surprise appearance at the show to collect her award, but she used the platform to give a touching and empowering speech to rising artists in the music industry. "If you're being met with resistance, that probably means doing something new. We live in a world where anyone can say anything that they want about you at any time. But just please remember that you have the right to prove them wrong."
Michelle Obama?
Need I say more? This one was completely unexpected. Former First Lady Michelle Obama made a surprise cameo to present The Weeknd with his award for Best International Male. As well as thanking him for his work as a musician and performer, she highlighted The Weeknd's contributions to charities including the Coronavirus Relief Effort and Food Aid in Ethiopia.
You can catch up on the BRIT Awards now on ITV Hub.